Gutters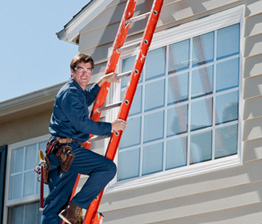 New Gutters Can Enhance Your Curb Appeal and Protect Your Home – But Proper Installation is Key
When choosing a company for gutter installation, you want to make sure that you choose the best one - we understand that all too well. As a small business family owner who has been doing what he loves, we have seen a lot of people ask the very same question.
Being locally owned and operated, we have a personal connection with each and every customer as well as their plight. Not only that, we seek to give work to quality builders in the Michigan area and to treat them and their talents with the respect entitled to them.
We serve residents and builders in the Rochester Hills, Auburn Hills, Macomb, Troy, Rochester, Birmingham, and the surrounding areas. G & M Roofing, Siding & Gutters is fully licensed and insured, and is noted for its custom work. We have been a family owned and operated this gutter company since we established the company in 1951. In that time, we have become one of the leading providers of high-quality seamless gutters, siding, and roofing products.
Home improvement is our specialty, and our reputation for customer satisfaction and certifications speaks for themselves!
---
Quality Service From Start to Finish
We offer free estimates for new gutter installations that are offered to residents as well as owners and managers of commercial buildings. with whom we keep strong contact to make the job go smoothly. When it comes to cleanup; whatever debris left behind by the job goes with us when it is done.
---
At G & M Roofing, Siding & Gutters, we are a fully licensed and insured family-owned roofing company committed to providing high-quality, customized work for homes and businesses. Get started today – contact us today for an honest, accurate estimate for your gutters and siding.