Professional Gutter Installation Around Auburn Hills MI
Protect Your Largest Investment With Exterior Construction from G&M Roofing, Siding & Gutters!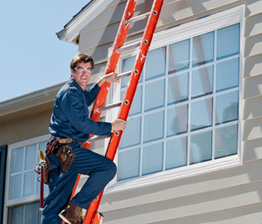 For over 65 years, G&M Roofing, Siding & Gutters has been providing exceptional quality exterior construction work to both commercial and residential properties throughout Southeast Michigan. Our team has always been focused on providing our customers with the highest quality materials with every job, and unparalleled customer satisfaction.
If you aren't completely satisfied with our work, then we aren't either. Our staff is dedicated when they're on the job, and when they're back in the office too - so you know you're covered when you trust G&M (literally). You're in the best of hands with G&M Roofing, Siding & Gutters!
We are fully licensed and insured, are accredited by the Better Business Bureau, and members of the HBA and Rochester Regional Chamber of Commerce:
---
Improve your curb appeal with new gutters from G&M Roofing, Siding & Gutters!
Being locally owned and operated, we have a personal connection with each and every customer as well as their plight. Not only that, we seek to give work to quality builders in the Michigan area and to treat them and their talents with the respect entitled to them.
G & M Roofing, Siding & Gutters is fully licensed and insured, and is noted for its custom work, which we guarantee for life. We have been a family-owned and operated this gutter company since we established the company in 1951. In that time, we have become one of the leading providers of high-quality seamless gutters, siding, and roofing products.
---
---
Siding Company Services Around Auburn Hills
We also understand that, from time to time, a structure requires repair and replacements. We're fully committed to working with you to replace and restore siding, roofing, gutters and more.
When people in the Southeast Michigan area call us for help, they know that G & M follows a reliable process focused on achieving the excellent our customers have grown to expect.
Getting the Job Done Right!
Working with the information that we gather from you, we like to move forward with everyone understanding what will be required to complete the job. It's important that you understand approximately how long your home or business will be worked on so that you are not unduly inconvenienced. When the work is finished, we do a thorough cleanup and haul any debris away.
---
Custom metalworking services for your home!
What sets us apart from other gutter, roofing, and siding companies is our ability to create custom metal pieces designed to compliment your home. Whether you are looking for unique, customized seamless gutters, a beautiful metal awning for your business, or trim and siding that will help you stand out -- we have the solution you need.
We handcraft your choice of metal specifically for your home, and our professional installation team will make sure you get superior results that last for years with minimal maintenance.
Customer Reviews
"G & M installed a new shingled roof, gutters, and beautiful rain chains on our house in Royal Oak. They were professional and courteous throughout the whole process from the estimate to the installation. Their crew worked hard and got the work done in a timely manner. They also took extra care to protect the house during tear-off and make sure the yard was cleaned up after each day's work. I have recommended them to many family, friends, and neighbors who have also had great success with them. If anyone mentions a new roof, I mention G & M because they are a great contractor to work with."

Amanda Cassidy, Homeowner
"I have done business with G & M Gutter Company, Inc. for over 10 years and have found them to be honest and reliable. They do a good job at a fair price. I used their business on a 142 unit condo site and their work was done timely and to my specifications."

Wayne P. Waller
---
Contact us to schedule your estimate, and find out how we can help you with your next roofing project! We're confident that our work can help protect your home or business for years to come.