Top-Quality Vinyl Siding Around Southfield MI
Professional exterior construction services with G&M Roofing, Siding & Gutters!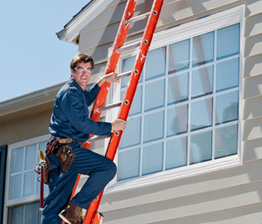 For over 65 years, G&M Roofing, Siding & Gutters has been providing exceptional quality exterior construction work to both commercial and residential properties throughout Southeast Michigan. Our team has always been focused on providing our customers with the highest quality materials with every job, and unparalleled customer satisfaction.
If you aren't completely satisfied with our work, then we aren't either. Our staff is dedicated when they're on the job, and when they're back in the office too - so you know you're covered when you trust G&M (literally). You're in the best of hands with G&M Roofing, Siding & Gutters!
We are fully licensed and insured, are accredited by the Better Business Bureau, and members of the HBA and Rochester Regional Chamber of Commerce:
---
Improve your curb appeal with new gutters from G&M Roofing, Siding & Gutters!
Being locally owned and operated, we have a personal connection with each and every customer as well as their plight. Not only that, we seek to give work to quality builders in the Michigan area and to treat them and their talents with the respect entitled to them.
G & M Roofing, Siding & Gutters is fully licensed and insured, and is noted for its custom work, which we guarantee for life. We have been a family-owned and operated this gutter company since we established the company in 1951. In that time, we have become one of the leading providers of high-quality seamless gutters, siding, and roofing products.
---
---
Siding Company Services In Southfield
G & M Roofing, Siding & Gutters has been a trusted name in the siding installation business for more than 60 years. Since 1951, our family-owned and operated siding company has worked closely with homeowners and business owners to install high-quality products that invigorate the exteriors of properties throughout the area.
We are sure you have a picture in mind of how you would like your home or business to look -- and we can make it happen! Our team will transform the exterior with new, contemporary vinyl siding or any product that will make your vision a reality.
When it's time to make improvements or repairs, we understand that you will have some idea of a budget in mind. That's why we provide more than just free estimates for siding installation. I'm happy to have one of our team members walk you through the process and go over the different types of materials and their costs, including custom products that are guaranteed for life. In the end, it's important that you get the best bang for your buck and an exterior you can be proud of.

Our Promise: NO Games, NO Gimmicks, Just Fair Prices.
---
Custom Metal Pieces For Your Home!
Metal Trim
Custom Gutters
Metal Awnings
They're One-Of-A-Kind
Guaranteed For Life
Copper, Aluminum, and Much More!
Customer Reviews
"Our company has been building and renovating homes for the last 20 years. We have been using G & M Gutter for just as long. From roofing, gutters & siding to intricate metal trim work, G & M Gutter is who we call. They are dependable, responsive and do excellent work. They are true professionals who maintain all their certifications and have an excellent support staff."

Shane & Jen McClure, MAC Construction
"I have done business with G & M Gutter Company, Inc. for over 10 years and have found them to be honest and reliable. They do a good job at a fair price. I used their business on a 142 unit condo site and their work was done timely and to my specifications."

Wayne P. Waller
---
If you need new siding or gutters for your Southfield home or business, contact our team today to schedule an estimate! We're confident that our work can help protect your home or business for years to come.