Top-Quality Gutter Installation Around Rochester MI
Protect Your Largest Investment With Exterior Construction from G&M Roofing, Siding & Gutters!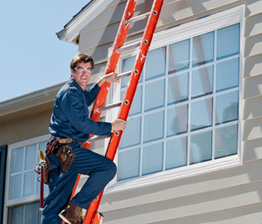 Since 1951, we here at G&M Roofing, Siding & Gutters have been providing Southeast Michigan with the best exterior commercial and residential construction services. Our team has always been focused on providing our customers with the highest quality materials with every job, and unparalleled customer satisfaction.
If you aren't completely satisfied with our work, then we aren't either. Our staff is dedicated when they're on the job, and when they're back in the office too - so you know you're covered when you trust G&M (literally). You're in the best of hands with G&M Roofing, Siding & Gutters!
Why Choose G&M Roofing, Siding, & Gutters?
Family Owned and Operated
Custom Products Guaranteed for Life
Fully Licensed & Insured
Unique Custom Metalworking
In Business Since 1951
Local, Independent Company
---
Improve your curb appeal with new gutters from G&M Roofing, Siding & Gutters!
Being locally owned and operated, we have a personal connection with each and every customer as well as their plight. Not only that, we seek to give work to quality builders in the Michigan area and to treat them and their talents with the respect entitled to them.
Quality Gutter Service From Start To Finish
We offer free estimates for new gutter installations that are offered to residents as well as owners and managers of commercial buildings. with whom we keep strong contact to make the job go smoothly. When it comes to cleanup; whatever debris left behind by the job goes with us when it is done.
---
---
Vinyl Siding Services In Rochester
We also understand that, from time to time, a structure requires repair and replacements. We're fully committed to working with you to replace and restore siding, roofing, gutters and more.
When people in the Southeast Michigan area call us for help, they know that G & M follows a reliable process focused on achieving the excellent our customers have grown to expect.
Preparation
Before our team starts work on your home or business, we will be sure that a survey of the property has been completed to assess the safest, most efficient and cost-effective way to approach the installation. Every structure presents different challenges and we believe in being prepared to meet them and give you the quality exterior you deserve.
---
Enhance your house with custom metalworking!
What sets us apart from other gutter, roofing, and siding companies is our ability to create custom metal pieces designed to compliment your home. Whether you are looking for unique, customized seamless gutters, a beautiful metal awning for your business, or trim and siding that will help you stand out -- we have the solution you need.
We handcraft your choice of metal specifically for your home, and our professional installation team will make sure you get superior results that last for years with minimal maintenance.
See What Others Are Saying:
"Our company has been building and renovating homes for the last 20 years. We have been using G & M Gutter for just as long. From roofing, gutters & siding to intricate metal trim work, G & M Gutter is who we call. They are dependable, responsive and do excellent work. They are true professionals who maintain all their certifications and have an excellent support staff."

Shane & Jen McClure, MAC Construction
"I have done business with G & M Gutter Company, Inc. for over 10 years and have found them to be honest and reliable. They do a good job at a fair price. I used their business on a 142 unit condo site and their work was done timely and to my specifications."

Wayne P. Waller
---
If you need new siding or gutters for your Rochester home or business, contact our team today to schedule an estimate! We're confident that our work can help protect your home or business for years to come.